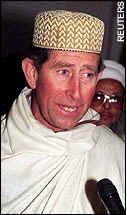 November 02, 2006
Islamic teaching could resolve world problems
-- Prince Charles
Dhimmi Prince Charlie prescribes Islam for what ails the world. Apparently he thinks it's a positive thing to come out publicly for the same thing for which Osama bin Laden, Omar Bakri, and others of like mind are striving. From the
Kuwaiti News Agency
(KUNA), with thanks to Voltaire:
ISLAMABAD, Oct 31 (KUNA) -- Prince Charles Tuesday said that the world problems could be resolve by following Islamic teachings, as Islam is a religion of peace and brotherhood.
Prince Charles while addressing a ceremony during his visit to Fatima Jinnah Women University (FJWU) stressed on better relations between Islam and other religions.
He said that clash of civilizations could be averted by following the teaching of Islam and Quraan.
Posted by Robert at
03:43 PM
Comments (10)
Email this entry
Print this entry